DeBra's
Establishment and clothing store at 1/28 Macquarie ST, Parramatta, NSW 2150, Australia. Here you will find detailed information about DeBra's: address, phone, fax, opening hours, customer reviews, photos, directions and more.
Opening hours
| | |
| --- | --- |
| Sunday | 10:00am — 02:00pm |
| Monday | 09:00am — 05:00pm |
| Tuesday | 09:00am — 05:00pm |
| Wednesday | 09:00am — 05:00pm |
| Thursday | 09:00am — 07:30pm |
| Friday | 09:00am — 05:00pm |
| Saturday | 09:00am — 04:00pm |
Photos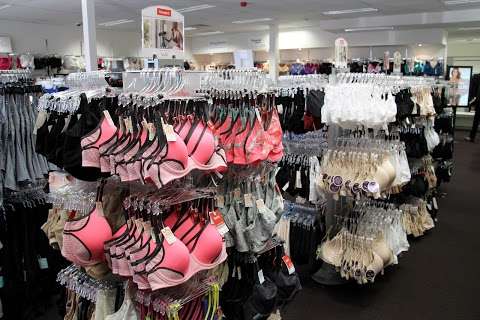 Reviews of DeBra's
Roz Gyzen Added April 13, 2023

★ ★ ★ ★ ★

DeBra's at Penrith is perfect for your next bra and swimwear purchase. Book in a fitting time and you will be provided with the best customer service imaginable. The lovely Hannah helped me with bras and swimwear…with honesty and fun. I walked out feeling fabulous and looking forward to jumping in the surf in my curve size swimwear. Thank you Hannah and the amazing team at DeBra's.

jasmine dehar Added April 10, 2023

★ ★ ★ ★ ★

Fantastic! Although my scheduled appointment was running a little late, i can definitely see why. The service here is impeccable! Ladies were wonderful and very patient in helping me choose undergarments for my up and coming renewal. A few wardrobe changes with their help, I finally found the right fit that complemented the dress and everything was lifted and sucked in, in all the right places. They even offered for me to come in "on the day," to make sure everything was tucked in and hidden. Best store service I've received to date! Highly recommend this store and the lovely ladies that work here.

naomi ford Added April 06, 2023

★ ★ ★ ★ ★

My wife and I came in for our first ever bra fittings so we were definitely apprehensive and felt really awkward. I believe we had Hannah (I'm so sorry I was nervous and think I got the right name. She is a really lovely young lady with multiple colours through her hair and the sweetest disposition.)
She explained everything, made us feel incredibly comfortable and made the fitting and buying new bras such a pleasant experience. We left with bras that fit perfectly and are exactly what we were looking for. We will definitely be back and will hopefully have Hannah assist us again, she is everything you want when looking for great customer service.

jacqueline mcintyre Added April 03, 2023

★ ★ ★ ★ ★

Went there to get a bra fitting had a really easy system with appointments. When I arrived for my appointment there were beautiful chairs to sit in and they had a chair in every change room. I was helped by Hannah and she couldn't have been more helpful and kind, got a proper fitting and beautiful selection of colours and sizes. Overall a really good experience with wide variety of styles and sizes, I couldn't be happier feels amazing to have a bra that fits perfect

Lindsay Alexander Added March 31, 2023

★ ★ ★ ★ ★

Hannah was amazing. She was so warm and friendly, joked around with me and made me feel super comfortable and amazing. Love her. Ask for Hannah she is the best! She made amazing suggestions, super quick and helpful and loved her service. Excellent customer service! Will definitely come back and ask for her :)
Questions & Answers
1. What is the phone number for DeBra's
The phone number for DeBra's is +61 2 9896 8134.
2. Where is DeBra's located?
DeBra's is located at 1/28 Macquarie ST Parramatta, NSW 2150.
3. Is there a primary contact for DeBra's
You can contact DeBra's by phone using number +61 2 9896 8134.
4. What is the web address (URL) for DeBra's
The website for DeBra's is debras.com.au.
Share this page
Additional actions
Today's weather in Parramatta NSW
13:00
27 ℃ 1016 hPa 52 % 6 m/s 16:00
26 ℃ 1017 hPa 51 % 5 m/s 19:00
21 ℃ 1019 hPa 71 % 3 m/s 22:00
19 ℃ 1020 hPa 81 % 2 m/s
Tomorrow's weather in Parramatta NSW
01:00
18 ℃ 1018 hPa 87 % 1 m/s 04:00
18 ℃ 1018 hPa 89 % 2 m/s 07:00
21 ℃ 1018 hPa 70 % 2 m/s 10:00
32 ℃ 1017 hPa 34 % 0 m/s 13:00
33 ℃ 1015 hPa 35 % 6 m/s 16:00
26 ℃ 1016 hPa 52 % 4 m/s 19:00
22 ℃ 1019 hPa 75 % 2 m/s 22:00
21 ℃ 1020 hPa 86 % 1 m/s