Lincraft
Establishment and home goods store at 159-175 Church Street, Parramatta, NSW 2150, Australia. Here you will find detailed information about Lincraft: address, phone, fax, opening hours, customer reviews, photos, directions and more.
Opening hours
| | |
| --- | --- |
| Sunday | 10:00am — 06:00pm |
| Monday | 09:30am — 06:00pm |
| Tuesday | 09:30am — 06:00pm |
| Wednesday | 09:30am — 06:00pm |
| Thursday | 09:30am — 09:00pm |
| Friday | 09:30am — 06:00pm |
| Saturday | 09:00am — 06:00pm |
Photos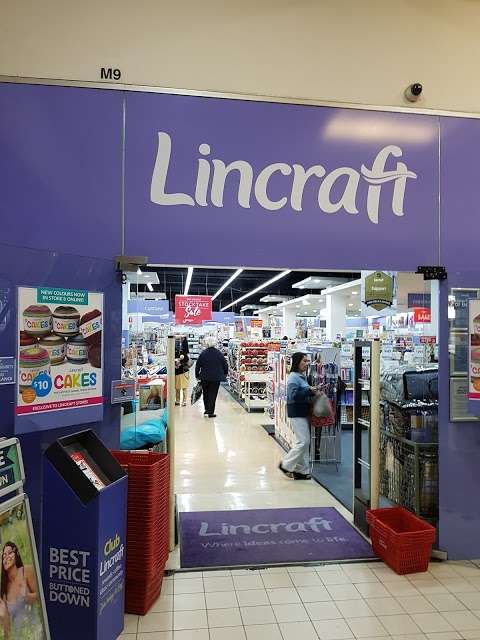 Reviews of Lincraft
Phillip Dutton Added December 04, 2023

★ ★ ★ ★ ☆

There are hardly any stores that sell craft supplies any more. Maybe the arts of knitting and crochet are falling out of fashion. I do quite a lot of crochet and I'm very grateful that Lincraft is nearby and still operating.
The store can look a bit disorganised when you first walk in but it's not that hard to find what you want and I have never gone there looking for something specific and walked away disappointed. Even if they don't have your requirements on the shelf they will happily order them in for you. There are not a lot of staff so if they are off in the store filling shelves or something you might be waiting at the cash register for some time but there is a bell and I encourage you to use it.
Questions & Answers
1. What is the phone number for Lincraft
The phone number for Lincraft is +61 2 9687 0677.
2. Where is Lincraft located?
Lincraft is located at 159-175 Church Street Parramatta, NSW 2150.
3. Is there a primary contact for Lincraft
You can contact Lincraft by phone using number +61 2 9687 0677.
4. What is the web address (URL) for Lincraft
The website for Lincraft is lincraft.com.au.
Share this page
Additional actions
Today's weather in Parramatta NSW
13:00
27 ℃ 1016 hPa 52 % 6 m/s 16:00
26 ℃ 1017 hPa 51 % 5 m/s 19:00
21 ℃ 1019 hPa 71 % 3 m/s 22:00
19 ℃ 1020 hPa 81 % 2 m/s
Tomorrow's weather in Parramatta NSW
01:00
18 ℃ 1018 hPa 87 % 1 m/s 04:00
18 ℃ 1018 hPa 89 % 2 m/s 07:00
21 ℃ 1018 hPa 70 % 2 m/s 10:00
32 ℃ 1017 hPa 34 % 0 m/s 13:00
33 ℃ 1015 hPa 35 % 6 m/s 16:00
26 ℃ 1016 hPa 52 % 4 m/s 19:00
22 ℃ 1019 hPa 75 % 2 m/s 22:00
21 ℃ 1020 hPa 86 % 1 m/s